Welcome To Morris Auto Parts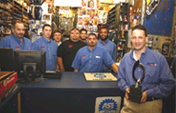 Since 1922, Morris Auto Parts has supplied the Philadelphia automotive community with high quality parts at reasonable prices. Whether you need parts, tools, paint supplies, or other specialty items, we're here for you.
Our Company mission is :
To service our customers through professional employees who always have the technical and logistical knowledge to get the right product, consistently delivered in the shortest possible time, to create the highest profit for the customer on each and every job.